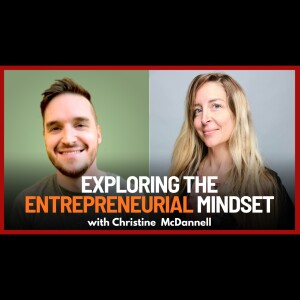 Thursday Aug 17, 2023
Exploring the Entrepreneurial Mindset with Christine McDannell | Ep. 70
This begins a new chapter of the Order Within Podcast! We are adding conversations with great thinkers, doers, and inspirational people in addition to the solo pod episodes.
This marks an exciting time and expansion of content we aim to bring you here. The topics will focus on various topics, always centering around the Order Within concepts of our discussions.
Our first guest will be Christine McDannell.
Let's dig in!
What's Happening in Today's Episode:
Christine McDannell is the Principal and Lead Business Intermediary of The Magnolia Firm, a boutique M&A brokerage firm helping business owners achieve the perfect exit.
She is passionate about all things business - especially helping entrepreneurs step into the next phase of life with their dream business exit.
After founding, growing, acquiring & selling 20+ of her own businesses across several verticals, including cleaning, wellness, beauty, technology, exotic cars, and real estate, Christine realized there was a formula behind the perfect business sale. She dedicated her full-time attention to helping others do the same.
Her proudest achievements include creating over 200+ direct jobs through her companies since 2003 and enjoying a private breakfast with her inspiration Richard Branson in Paris in December 2017, honoring her contributions to the Virgin Unite Foundation. 
We dive deep into the entrepreneur's mind and what is required to build a vision of our making. Entrepreneurship takes many forms, and sometimes we're limited in our vision of what's possible. We hope to break down some of those barriers in today's episode.
Here's a quick highlight of topics from our conversation:
* The origins of the entrepreneurial mind
* What key skills are needed to succeed as an entrepreneur
* How our childhood influences our adult life
* The importance of visualizing what you desire
* Common traps we can fall into with our thinking
* Much more!
Christine and I went deep into the topic of entrepreneurship and the many challenges that come up along the way. Having a strong mind is key to success in all areas of life. The more challenging, the more resilience we will need.
I hope you enjoy this first conversation, as there are more coming!
As always, I strive to provide insights and tools you can apply directly to your life. Together, we'll navigate the often-misunderstood terrain of personal development, empowering you to tap into your highest potential.
You can find a link to the show's transcript here or watch the interview video here!
Ways to connect with Christine:
* The Magnolia Firm: https://themagnoliafirm.co
* LinkedIn: http://linkedin.com/christinemcdannell
* Instagram: https://www.instagram.com/themagnoliafirm/
* TikTok: https://www.tiktok.com/@themagnoliafirm
* Facebook: https://www.facebook.com/themagnoliafirmco
* YouTube: https://www.youtube.com/channel/UC4kMXYjuFFGwy-NEskB0iyQ
Additional Show Information
I use an incredible editor, Descript, that works like a document editor with ease and simplicity. It also brings excellent sound quality to make editing a breeze. You can check it out here.
New episodes will be released weekly at 11 am EST on Thursdays.
Are you interested in a specific topic? Drop a comment below for any suggestions you'd like to hear in a show.
Please consider sharing, subscribing, and rating on your favorite podcast platform if you enjoyed the show.
You can visit my site here - brandonleeward.com if you'd like to connect.
You can reach me on LinkedIn or Twitter as well.
The podcast cover was designed by Camilla Simoncini - www.camillasimoncini.net.
The audio track from the intro and outro can be found here on Pixabay.
Until next time y'all!
This is a public episode. If you would like to discuss this with other subscribers or get access to bonus episodes, visit
www.orderwithinpodcast.com
Comments
(0)
To leave or reply to comments, please download free Podbean or